Providing Woman-Centered Herbal Care
Katrina has been a practicing herbalist for over 20 years, providing care specific to a woman's needs throughout her childbearing years. Katrina creates all her products to order, by hand. All of the herbs she uses in her practice are either organically homegrown in her own garden, ethically wildcrafted in the forest, or purchased certified organic.  All herbal tinctures are extracted in certified organic grape alcohol (grain free).
The Village Apothecary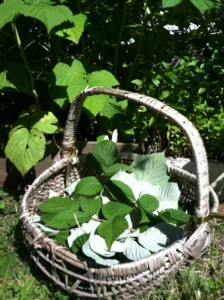 In 2004, Katrina created The Village Apothecary, a resource for quality, local, herbal products designed for the childbearing woman. At the Village Apothecary, you'll find hand-blended teas from organic herbs that have been shade dried; herbal sitz baths to soothe sore bottoms after birth, designed to be brewed with ease in cotton muslin sachets; all-purpose healing salves and sore nipple ointments; herbal tinctures custom compounded to your specific needs; and specialty tonics like Katrina's annual limited edition Elderberry Elixirs.
Herb Walks with Katrina
As a NW Community Midwives client, you'll have opportunities to take walks in the woods with Katrina to learn about plant identification, medicinal plant properties, and ethically wildcrafting.

A life-long herbal practice
Katrina began her herbal studies as a young girl, watching her mother wildcraft Sassafras bark from trees when her family went camping in the summers on the east coast.  Her mother, part Chickasaw, would use the bark to make tea, and was also an avid naturalist, growing medicinal herbs in the family garden.  When Katrina became pregnant with her first child in 1998, she learned about herbs for pregnancy, labor, postpartum, and breastfeeding support, through self-study. To deepen and broaden her knowledge, she studied Master Herbalism at the American College of Health Sciences (previously the Australasian College of Herbal Studies) in 2002, Pacific Northwest wildcrafting with Arctos School of Herbal and Botanical Studies in 2008, and herbal studies specific to women's health through the childbearing year at Birthingway College of Midwifery from 2010-2013. Katrina is also a Level II Reiki practitioner, and infuses all of her products with "universal life energy".
Want to learn more about how Katrina can support you through your pregnancy, in the comfort of your own home? Contact us for a free consultation.