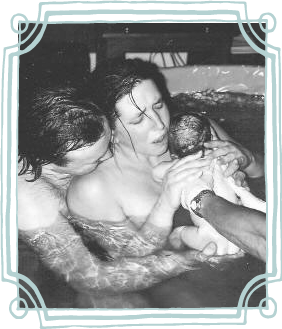 Water birth has great advantages to both the laboring woman and her baby. When labor becomes physically easier, a woman's ability to calmly concentrate is improved, and she is able to focus inward on the birth process. Water helps some women feel so relaxed that their fear and resistance are diminished or removed completely;  then their bodies let go, and their babies are born in the easiest way possible. When women experience the water's relaxing benefits, they usually have little need for pain medication, therefore their baby will not be subjected to harmful drugs filtering through their body.
The water's buoyancy provides babies with more oxygen due to better blood circulation in their mama. Also, the weightlessness that babies experience moving from the fluid-filled womb into the warm waters of the birthing tub, creates less trauma and an easier transition during birth. This gentle way into the world enhances their ability to bond with their parents and learn the new task of breastfeeding.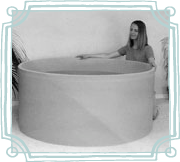 We have two options for birth tubs, both of which have an individual liner purchased from Radiant Belly. Our AquaDoula tub (on the left) comes with most everything you will need to labor and/or birth in water including built-in heaters to maintain warmth, and a pump for emptying water after the birth.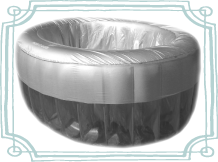 Our La Bassine tub (on the right) is ideal for women who've already given birth. It doesn't have heaters in it, but when filled with warm water, maintains heat well for a shorter amount of time. Rental includes a tarp for protecting your floor, a pump for inflating and deflating, and a pump for emptying water after the birth.
For each tub, you will need to supply your own hose and hose adaptor.  We recommend a clean, preferably new, hose that is safe for drinking water/lead free.